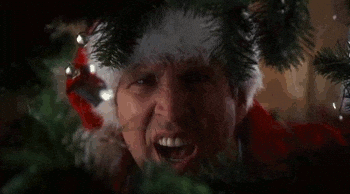 Once again, the holidays are quickly approaching! An exciting time of year filled with love, cheer, food and festivities. Family Feuds, crowded stores with long lines, overblown budgets and overeating. We at BH want to help you through the "most wonderful time of the year" by sharing our Holiday Handbook, a guide to surviving and thriving over the next few months. We'll help you respond to the passive-aggressive remarks about your personal life, keep your cool when your uncles engage in a screaming match at the dinner over their opposing political ideologies, and deal with your great aunt who overindulged, yet again, in the eggnog.
By the end of our series, you'll have the knowledge to outcook Gordon Ramsay, pick out better presents than Oprah, set a dining table fit for the Queen Elizabeth and decorate your home for the holidays as fabulously as Joanna Gaines. And if, more likely, you never reach those levels of perfection, we hope we have at least helped you up your holiday merriment in some small way.
Today's topic of discussion: how to assemble the perfect table for your dinner party. Whether it's one or two friends or a large group dinner party, setting a beautiful table can elevate the sophistication of your next gathering. And, if your meal goes awry, at least it'll look pretty served up next to your elegant centerpiece. Here are our step-by-step instructions and suggestions for how to achieve a perfect table.
TIMING

The first tip we have for setting the perfect table is this: set your table up the night BEFORE your dinner party. The night of your party you'll need to focus on the food, and doing this early will alleviate stress while you're cooking. Also, you'll be able to take time to tend to the details and your table will look refined instead of sloppily thrown together. For example, your linens will likely need to be ironed. If you're rushing at the last minute, you may end up throwing on a wrinkled tablecloth which won't impress guests. Trust us, setting your table early is a huge stress-reliever and time-saver on the night of your party.
TEXTILES AND TEXTURES

If you want your table to look suitable for HGTV, layer it with many textures. We recommend you start your table set up with a textile such as a tablecloth, placemats or a runner. Adding a fabric layer to a wooden table will help protect the finish and incorporate a warm, decorative element. If you want to double up the textile textures, use a tablecloth and add a runner on top. Keep in mind, patterned tablecloths will camouflage spills better than solid ones. If you're wondering what size of tablecloth you need, purchase one that will have 6 to 12 inches of drop on all sides of the table. You don't want it to be too short, but you also don't want it hanging down into your guests' laps. For example, if your table is 60 inches by 32 inches, you'll want a tablecloth around 76 inches by 48 inches, that way you have an 8 inch drop all the way around.
Another great textile to incorporate to add texture is cloth napkins. We'll talk more about those below. You will incorporate many layers of texture through your dishware patterns, centerpiece, candles and place cards, but your textiles are a the most versatile textural element.
DISHWARE
Now it's time to add the dishes. There are many ways to arrange dishware, but here is one set up we suggest:
Start with chargers. (Charger [chahr-jer] noun: a large non-functional plate to be placed underneath your dinner plate. Do not place food upon. This serves no purpose other than looking fancy) Chargers come in many colors and materials and should coordinate with your table's overall theme, color scheme and your dishware.
Upon the charger, place your dinner plate (that's the big one). Then, on top of that, the salad plate. If you can, we recommend mixing up the plate patterns. You don't have to use matching dishes, and in fact being able to mix various plate styles gives it a designer-feel (as long as they coordinate). If you're looking to purchase a variety of plates, check out the selection at your local bargain home décor stores like TJ Maxx or HomeGoods. These stores carry a huge variety of dishware you can mix and match, at a great price.
Napkins aren't "dishware", but they should be placed on the table after positioning plates and before adding silverware. Obviously, cloth napkins aren't ideal for everyday use, but for special occasions they add elegance and another textural element. Napkin folding and placement can get pretty fancy (fans, birds, hats, silverware pouches), but here are three easy ways to place them that we recommend:

The simplest and most traditional option is folded up and placed to the left of your dinner plate, underneath the forks.
A fun option is to arrange the napkin inside a napkin ring and place the napkin on top of the salad plate. Also, a napkin ring is yet another textural element.
One other option is to fold the napkin so that it's just about the width (slightly less than) your salad plate. Place the napkin on top of the dinner plate and underneath the salad plate so that it runs from the top edge of your dinner plate and down over the bottom edge. And if that description doesn't make sense, just reference the photo.
Silverware…. whatever you've got is probably fine as long as each place setting matches. Forks go on the left, and if you have two, the little one goes on the outside. On the right place the dinner knife next to the plate, sharp edge towards the plate and spoon on the outside. Again, if you are placing napkins under silverware, they belong under the forks on the left.
Glassware is next, and we say, two glasses are better than one. Have a wine glass (or whatever barware you are serving in) and a water glass at each setting. Typically, these would be placed together on the right side of the plate above your knife and spoon, larger glass on the inside and smaller glass to its right. This is another great time to vary your patterns and colors, the glasses don't need to match, just coordinate.
CENTERPIECE

Now that the dishware is set, it is time to add the centerpiece. What you choose will depend on what all you plan to have on the table during the meal, what shape your table is and the occasion. If you're planning to have a big dish with the main course set in the center of the table during the meal, you will need to allot space for that.  If you have a long rectangular table, you may want to consider a long low arrangement or multiple small arrangements set along the length of the table. If you do this remember to use odd numbers of arrangements, they are more appealing to the eye. If you are throwing a holiday dinner party, you'll probably want to incorporate festive items.
Whatever you choose, make sure that your centerpiece is not to tall. Nothing kills a dinner party like the guests not interacting with one another, and they can't very well do this if all they can see across the table is a giant vase of flowers.  Our rule: don't let the centerpiece height go beyond 15 inches.
There are many different materials you can choose to use for your centerpiece, but we wanted to provide a few ideas. 
A floral centerpiece is timeless, beautiful and elegant. A fun idea: use all the same color but different varieties of flowers. OR try using multiple small vases with just one to a few stems in each. Whatever you choose, be mindful of what vase you'll be using. Vases with a wide opening will require many flowers to give a full look, while vases with narrow openings require far less.
A greenery-only arrangement is a modern take on the classic floral arrangement. One of my favorite uses of greenery is to run it along the table as you would a runner. Or, for a simpler look, place just a few stems of greenery into a vase.
Lanterns have become a popular choice for centerpieces. They give an especially cozy vibe to the table in the colder months.
Another centerpiece choice might be to follow a holiday theme. For Thanksgiving a centerpiece of squash and pumpkins placed onto some type of tray creates a festive fall-feel. For Christmas, a vase filled with ornaments captures the spirit of the season.
CANDLES
At this point, you have set the textiles, dishware, and centerpiece. Now, it's time for some ambiance, and candles will make your beautifully set table sparkle just a little more. Make sure that you choose unscented candles for your table because the aroma from scented candles can compete with and change the flavor of your food. Now when it comes to candles you've got options. You could opt for tall skinny candlesticks, shorter and fatter candles or tiny little tea lights. Whatever you think fits your table best. Tea lights in small glass containers are nice because you can have many of them flickering and sparkling inside the glass, while tall candlesticks give a sophisticated feel to the meal. We just recommend adding some type of candle to add an air of romance to the night. One thing to be mindful of is the proximity between the flame and your centerpiece. I've personally seen more than one centerpiece go up in flames, and it definitely puts a damper on the party!
Another helpful tip, when you go to put your candles out be careful not to blow too hard and spray wax all over your table cloth, it is a major pain to get out of fabric. If you do happen to spill wax on your linens, wait for the wax to harden, then grab some ice cubes. Making sure not to damage your table underneath the cloth, hold the ice on the wax spot. Then either peel the fabric back from the wax or take a butter knife to scrape and break up the wax. We'd then recommend vacuuming up the spare wax flakes to prevent them from sticking somewhere else.
DETAILS
By now, your table is pretty much set, but there are a few last details to be mindful of. One, think about any extra dishes you will need to put out for your meal like a butter dish, pitchers and salt and pepper shakers. Put out these dishes when you set your table for spacing, even though you won't necessarily add butter or fill your pitchers till closer to meal time. If you're expecting a lot of people, a fun option for salt and pepper shakers is to buy several small sets. Then you can place them around the table to avoid people reaching too much, and they're adorable!
Another detail you may want to consider is place cards, especially if your guests don't know one another well. This will alleviate stress for your guests about who to sit by when they don't know each other. When you decide who to place where, place your most talkative and loudest guests in the middle. From here, they can help drive the conversation for the entire table.  Again, this is another opportunity to add your personal touch to the table and is an additional texture. If you need inspiration on creative place cards, just jump on Pinterest. From simple paper cards to pastries that have names frosted onto them, you'll find endless options.
That wraps up our table setting instructions. We hope we've helped you with how to set up a stunning table for your dinner parties over the holiday season. There are plenty of holiday stressors, but hopefully your table won't be one of them!